From now until February 20th, anyone who wakes up before sunrise can see Mercury, Venus, Mars, Saturn and Jupiter all at once, no telescope required. These are the five brightest planets, and they are a beautiful sight lined up from east to west in the predawn sky.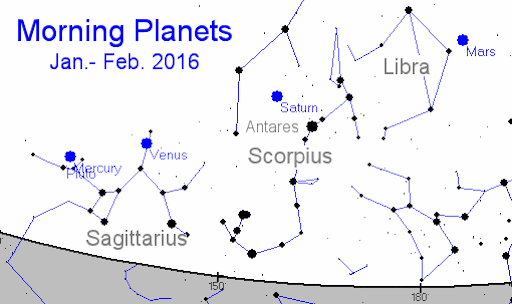 Although the planets can be seen any morning for the next 4 weeks, there are some dates of special interest. As January ends and February unfolds, the Moon will hop from planet to planet, acting as a can't-miss guide for sky watchers.
The action begins on Jan. 27th when the waning full Moon passes less than 5

o

from Jupiter.
Next, on Feb. 1st, the half Moon is only a few degrees from the red planet Mars in the constellation Libra.
Two mornings later, on Feb. 3rd, a fat crescent Moon passes by Saturn, only a few degrees away.
And finally, best of all, on Feb. 6th, the slender cresent Moon forms a lovely triangle with Venus and Mercury just ahead of the morning twilight.
ENJOY AND GOOD LUCK SPOTTING!
Jill Gilardi WBRC First Alert Certified Meteorologist